William Hill team up with PA Betting Services yet again to access its fast and reliable Racing Data content.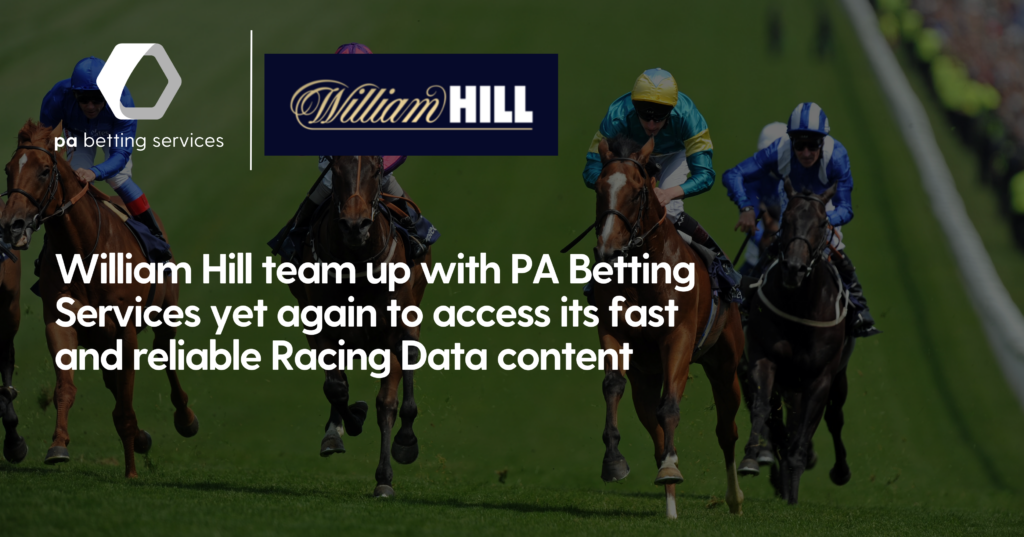 PA Betting Services has bolstered its relationship with William Hill, one of the world's leading betting and gaming companies, by continuing to provide them with UK and select International Horse Racing Data, as well as UK Greyhound Data. This includes race cards, premium vector silks, live betting odds and results, in conjunction with access to PA's world-renowned Sports Editorial News Content.
This renewal highlights the strong and long-standing partnership between PA Betting Services and William Hill. Likewise, this agreement reinforces PA Betting Services position as a leading provider of high-quality Racing Data content to the global betting industry, whilst enabling William Hill to provide its customers with unparalleled access to the latest accurate racing information and insights.
Niamh Richardson, Account Director at PA Betting Services said, "It is great to continue our successful partnership with William Hill and we are elated to have secured yet another agreement with them. By choosing to work with us again, Hills have demonstrated how vital official and accurate Racing content is to such an esteemed company. We look forward to continuing to provide William Hill with the high-quality service they have come to expect from us."
Simon Kew, Director of Horse Racing P&L, at William Hill said, "We are pleased to have extended our partnership with PA Betting Services and to be able to continue to give our customers the best quality Racing Data and content available. This new agreement supports our commitment to providing our customers with a first-class betting experience.
ENDS
Notes to Editors
For further comments or questions, please contact:
Niamh Richardson (PA Betting Services):
Shana Sivalingam (PA Betting Services):
About PA Betting Services
PA Betting Services, part of the PA Media Group, is the market-leading provider of racing and sports data in the UK and Ireland. Providing data, editorial and page ready services with over 30 years' experience.
Visit https://pabettingservices.com/ for more information.
About William Hill
William Hill PLC is one of the world's leading betting and gaming companies, employing over 12,500 people. With headquarters in London and Leeds it has a national presence of licensed betting offices in Great Britain and Northern Ireland and is one of the country's leading online betting and gaming services..
Visit https://www.williamhill.com/ for more information.