PA Explore wins Best Product and Tech Innovation prize at the 2021 INMA Global Media Awards
The editorial platform from PA Media (PA) – the national news agency of the UK and Ireland – won the top prize among national brands shortlisted in the category
PA Explore has been named Best Product and Tech Innovation among national news brands at the Global Media Awards organised by the International News Media Association (INMA).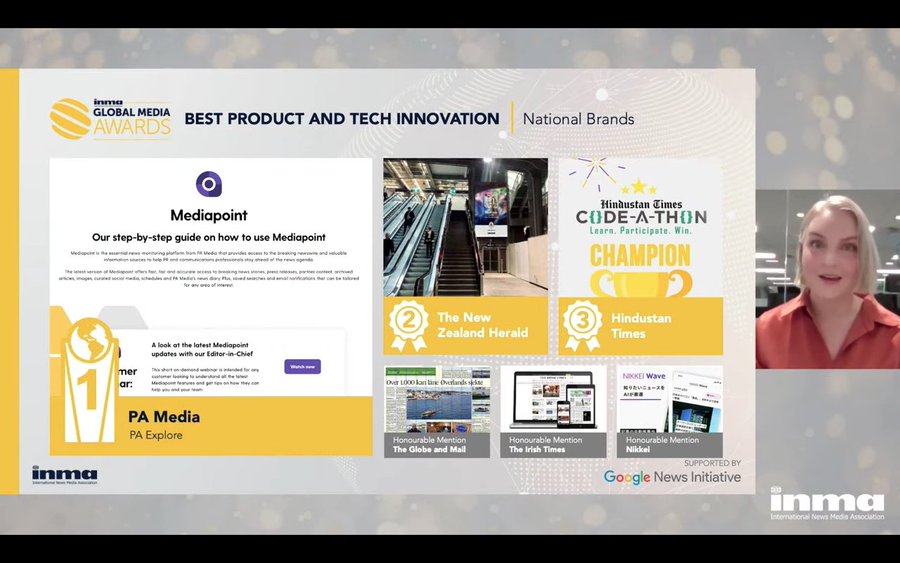 Presented since 1937, the Global Media Awards recognise outstanding achievement in innovation and best practice among news brands, particularly in optimising the use of media platforms, subscriptions, business development, and data and insights.
Explore, PA's editorial platform, became crucial during the COVID-19 crisis as many of PA's customers shifted to homeworking. More than 8000 journalists were onboarded in 2020, gaining access to all of the news agency's words, pictures, video, graphics in one place.
PA's entry – available to see here – highlighted how the news agency overcame the challenge of how to make it easier for customers to find and use the vast amount of content created each day.
The judges described PA Explore as "a fantastic innovation platform", praising its rich mix of content including multimedia, ready-to-publish articles.
Also shortlisted for innovation projects were Canada's Globe and Mail (Sophi Automated Print Laydown); India's Hindustan Times (Hindustan Times Code-a-thon: India's Largest Coding Olympiad); Ireland's Irish Times (The Irish Times Website and Apps); the New Zealand Herald (NZ Herald App Relaunch) and Japan's Nikkei (Nikkei Wave: The Experimental App for New Technologies).
Pete Clifton, Editor-in-Chief at PA Media, said:
"We are absolutely thrilled to get such a ringing endorsement in these global awards. PA Explore was a great collaboration between editorial, product and tech teams, and our focus was always on making it easier for our customers to find and use more of our content wherever they are. The feedback from customers has been fantastic, and to get this industry recognition against entries from around the world is a tremendous bonus."
PA's Explore platform also won the 'Excellence in News Agency Quality' prize from the European Alliance of News Agencies (EANA) in 2020.
INMA announced the winners at a virtual ceremony on Thursday 3 June. The full list of winners in the Global Media Awards can be found on the INMA website.