World Cup packages explained – Q&A with Keiron Muir, Account Director, PA Betting Services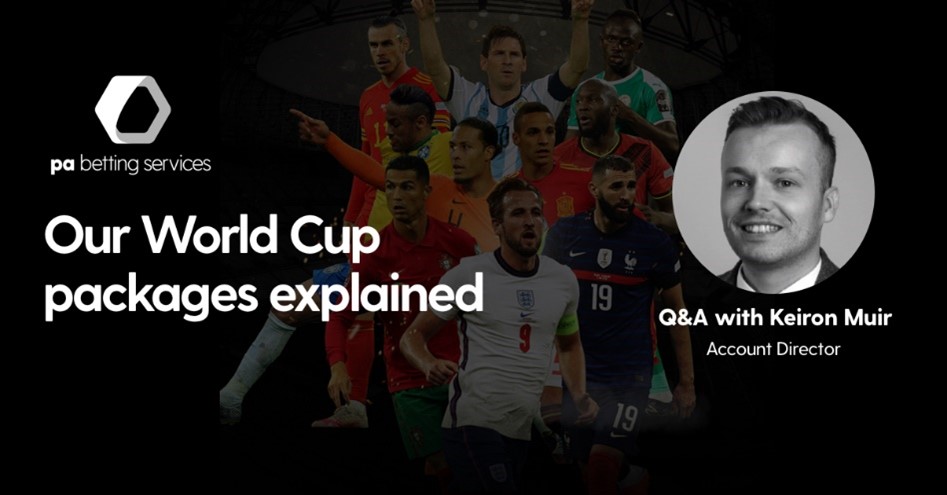 Tell us about PA Betting Services' World Cup packages?
We have worked with our content creators and data teams to bring three packages to the market, which are Go, Pro and Ultimate.
Go – We feel this package caters to customers wishing to get a boost ahead of the tournament. Alongside a tournament stat pack, we have pre-event tournament tips, golden boot predictions, and a players-to-watch guide, which are ideal for marketing teams to pair with their own promotions.
Pro – This package sees the addition of bet interest match previews and interactive graphics. The Pro package is produced and managed by PA Betting Services content creators, some work is still required by marketing teams to decide which content to use and where.
Ultimate – This package takes it a step further again and includes additional access to our match data feeds and image packages. For Ultimate customers, we will work with your marketing team throughout the tournament to create more bespoke content relevant to your areas of interest which will take much of the effort away from marketing teams.
How exactly does it work?
Simply book a meeting with one of our Business Development Representatives or Account Managers. Share with us your ideas for your platform or use case, we will then discuss the options with you openly, making suggestions that pair you with a package that best suits your needs. The packages are not set in stone, and we are capable of tailoring a proposal matched to your requirements.
What sets your product apart from similar services?
We believe what sets us apart is the unique combination of match data with real-time updates, paired with our best-in-class betting editorial and interactive infographics provided by EngageCraft. With over 2 million images from previous World Cup events alone and photographers at every game, we are the only supplier with this breadth of coverage.
What exactly are interactive Touch engagements?
Our infographics powered by EngageCraft technology, allow our content creators to pair our stats-based editorial with interactive and engaging visuals for every match preview and post-match analysis and are proven to increase dwell time and bet activation.
The graphics are included as a widget either embedded or as an iframe onto the page with supporting content to allow readers to create their own match predictions, complete quizzes and share on their own social channels.
Are images available for all the matches?
Access to images from our sister company Alamy – the third largest stock images platform globally – is provided with the Pro and Ultimate packages. Alamy blends our own professional photography with crowd-sourced images from over 300 thousand global contributors in an easy-to-use web platform. This winning combination gains us unparalleled reach both in terms of access to the grounds, colour and emotion that comes with the World Cup.
When is it available?
The product is live and will commence for each client depending on their own specific needs. Reach out and register interest to us before October 14th if you are interested in the Ultimate package.
Speak to our expert team at PA Betting Services.